Boost Your Brand with USB Business Cards
• Just like a promotional USB flash drive, but a business card too!
• Your brand is displayed in vivid details and vibrant colours.
• Quick turn-a-round. Get your customised USB cards in 5 days!
We have been supplying USB flash cards to a wide range of organisations worldwide since 2006, including Fortune 500 companies, rock bands, and schools. With our ISO-9000 certified factory and high-quality standards, we deliver the best quality USB Cards every time. Together with our data preloading service, we enable you to run successful promotions and generate instant buzz.
Our USB Card products can be customised with your company's logo and message. And with comprehensive service offerings that include data preloading, file lock, autorun, printing and engraving we provide you with the complete solution to run a successful promotion.
Meet the 2 USB Card models: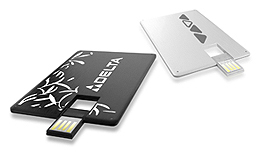 Alloy USB Card
Over 10,000 Clients Trust Us